Instructor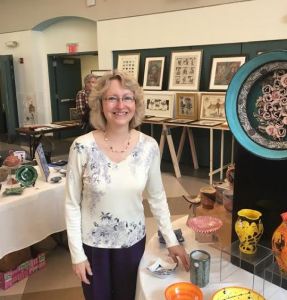 Vicky Youngman
Vicky Youngman has a Master of Professional Studies in Creative Arts Therapy from Pratt Institute in Brooklyn, NY, and worked as an Art Therapist and administrator in health care settings for 23 years.  She taught art therapy for seven of those years at the School of Visual Arts in Manhattan and for a short time at College of New Rochelle.
Her second career as a ceramic artist has enable her to exhibit and sell her work and continue her love of teaching.
As a Professional Teaching Artist through ArtsWestchester since 2008 she has conducted ceramic arts residencies in schools and community sites and most recently Teen Tuesdays, Family Arts Bash and Arts Mobile workshops.  She has facilitated professional development workshops for school teachers and staff development workshops for various WESTCOP (Westchester Community Opportunity Program) programs, such as Head Start.  She also conducted creative arts workshops for the public through The Hammond Museum, The Hudson River Museum and The Blue Door Art Center.
Youngman is an Adjunct Assistant Professor at Pace University, Pleasantville campus, where she has taught ceramics since 2011.  In addition she enjoys teaching a variety of pottery classes at preschools, afterschool programs and summer camps throughout the region, including The Clay Art Center in Port Chester, NY, Five Star Premier Residences of Yonkers, NY. and RiverArts Summer Arts Workshops in Hastings-on-Hudson, NY.
Youngman says, "I primarily make functional pottery for everyday use but also enjoy creating ceramic wall art.  My approach to both involves considerable hands on exploration, experimentation and playfulness.  Much like life, it's a journey into the unknown, one of discovery with imperfections, mishaps and wonderful surprises along the way."
View all Instructors