Folk Art Celebration: Diwali!
November 6, 2021
1:00 pm - 2:00 pm
Donate To Support Our Free Programs
Celebrate Diwali at Pelham Art Center!
Free Folk Art Event Saturday, November 6th 1:00-2:00pm
Diwali serves to bring family and community together with its promise of hope and joy. Come experience the delight of Diwali November 6th at Pelham Art Center. This free event will take place outside in the Pelham Art Center courtyard 1:00 to 2:00pm. 
Diwali is a major festival for Hindus, Sikhs, Buddhists, and Jains, who believe that light is a metaphor for knowledge and signifies health, wealth and peace. All ages are welcome to take part in the folk art festivities, starting with traditional dance performances followed by a guided art project and temporary henna tattoos. 
Pelham Art Center welcomes Dr. Nalini Rau to share the story and significance of Diwali, as well as the storytelling techniques and hand gestures of the dance style. Dancers Sia and Varsha will perform a brief sloka (Sanskrit song). Sanjana Karthik will then perform a tandava (divine dance) of Shiva-Shakti, followed by a piece on Rama performed by  Nista Nandakumar. The performances culminate with Dr. Rau's final piece on the Devi. Guests are then invited to participate in a hands-on Diwali artmaking workshop led by teaching artist Sonika Gupta. Paint and decorate your own diya to hold a tea candle representing your own sakshi, the divine inner light.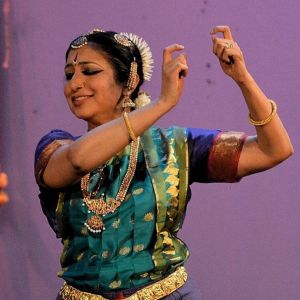 About Dr. Nalini Rau
Dr. Nalini Rau is a dancer, choreographer, educator and teacher of  Bharata Natyam, based in New York.  She trained with the legendary nattuvanar/percussionist Guru Dakshinamoorthy Pillai and the duo Krishna Rao and Chandrabhaga Devi. Her dance is informed both by her training, her academic background as well as her passion for teaching and connecting dance to contemporary issues.  She has a BA degree in Economics and MA in Linguistics from Delhi University and a Masters and a doctorate from the University of Illinois. She likes the challenge of turning abstract ideas into visual movement and is truly happy when her audience and she connect via dance.
Arts Westchester awarded her in April 2015, the "50 for 50" award as a recognition for  her "outstanding contributions as a choreographer". She was the honoree artist for IACAW  in 2018 her contributions to the community. Her Guru awarded her the Natya Navaratna which she received from the President of India under the auspices of Natya Kalalayam.
Dr. Rau uses the traditional style and techniques to explore current issues. Her choreography makes these two strands come  together in her dance.  She has  explored the effects of the virus of hate in the pandemic, the quest for peace, self transformation, facets of womanhood, our relation to the society, human emotions, reinterpreting of mythology, along with the more traditional repertoire. She has  trained over 200 students of every age at Natya Anubhava, and been invited as an educator  in numerous schools,colleges, and museums.
She has enjoyed sharing her art at many festivals including the Marghazi winter festival, Chennai, the Town Hall Manhattan, United Nations for the International day of Happiness in March 2016, the  Arts Westchester for SHE in April  2016, International events for peace, Central Park, the Lincoln Center. She has also had interactive presentations at the Jewish Museum, the Krannert museum, the Pelham Art Center.  She has been an active  performer and participant  of the Hammond Museum exhibitions during the pandemic. She presented  Agraani, a dance ballet on the women trail blazers at SAIPAF, Manhattan in August 2015 , which was one of a series of recitals she choreographed on the role of women from ancient times to the modern times..
She teaches  classes at every level for children and adults at the India Center and at her studio at Yorktown.  She teaches master classes to a few advanced students.
About Sonika Gupta
As a native New Yorker, Sonika's exposure to art has been rich and diverse. Her early engagements in visual arts, classical dance, and music eventually led to a bachelor's in Arts Management at Purchase College (SUNY). Then, she gained proficiency in oil painting and drawing (fundamental, traditional, contemporary, portrait) at the Center for the Arts of Westchester Community College (SUNY). This was followed by working experiences in museums, art therapy, gallery management, grant writing and development, and nonprofits. She then chose to be her own master, focusing on oil and acrylic paintings, along with some digital art, to explore a range of expression from the past and the present. Along with being an artist, she currently works in various administrative and teaching capacities.
Sonika focuses on oil and acrylic paintings to explore a range of expression that forms her journey to wellness. Her mode of communicating with the viewer involves form, color, movement, and emotion. Sonika's inspirations include places she has visited, people she has seen or interacted with, and renowned works she has studied. She finds that the creative process of art and the act of viewing it have healing power for both the creator and the viewer. Through experimentation and exploration, Sonika believes her artistic journey will be rewarding. She hopes you'll join her on this journey and enjoy learning about art together!