Cover Lover Remix
July 21, 2022 - August 27, 2022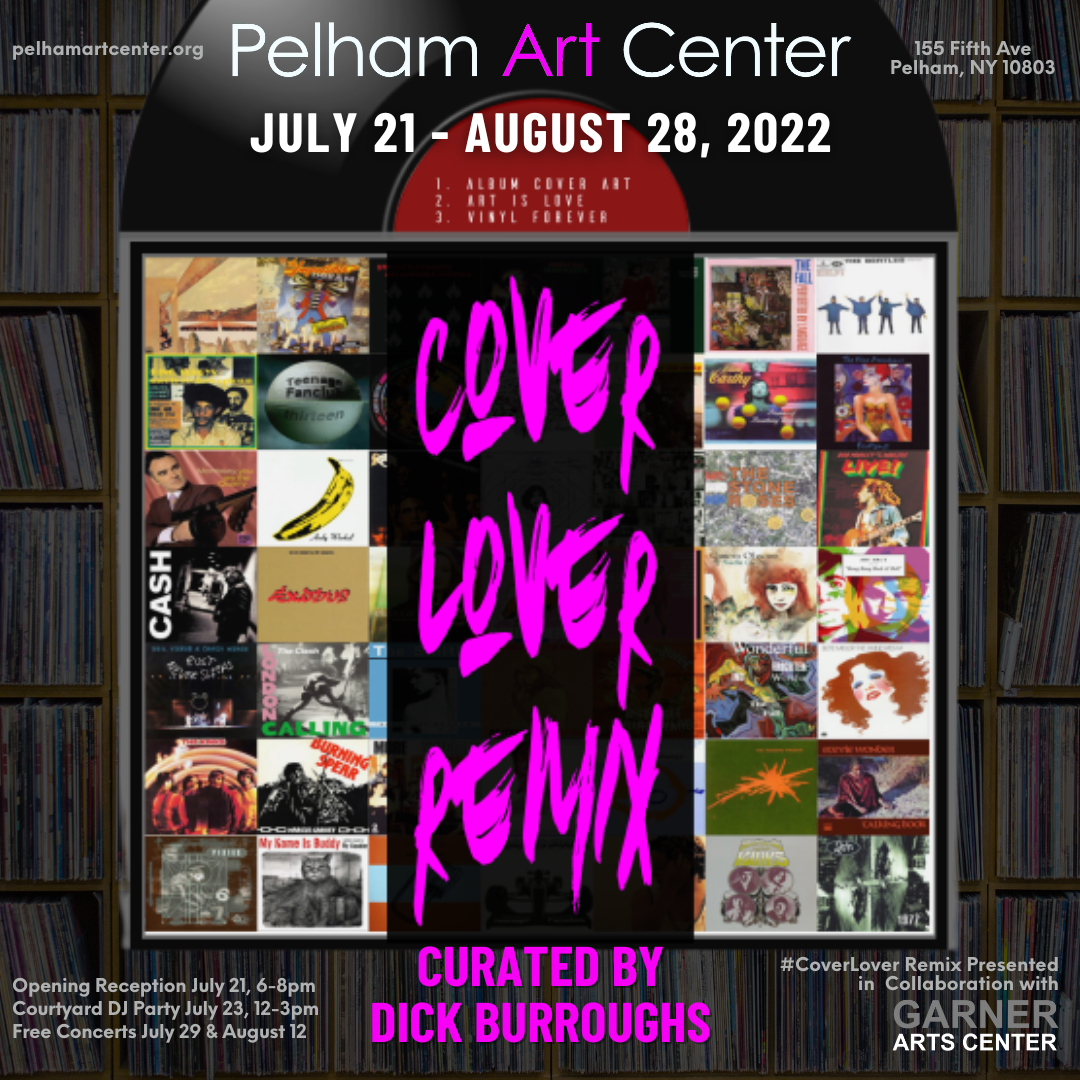 Cover Lover Remix Lower Hudson Valley Summer Tour! Exhibition Travels from GARNER Arts Center to Pelham Art Center for Its Second Leg. On View July 21 to August 28, 2022 at Pelham Art Center
Scroll down to see all works included in Cover Lover Remix!
Opening Reception Thursday July 21st, 6pm-8pm
Courtyard DJ Party Saturday July 23rd, 12-4pm
ABOUT COVER LOVER REMIX:
Cover Lover Remix (CLR) is a juried multi-artist exhibition of "remixed" album covers. CLR began in 2011 in Bedford-Stuyvesant, Brooklyn, as the "vinyl-revival" was picking up steam with renewed interest in vinyl records as handheld pieces of
multimedia artwork comprising a layered sensory experience. The CLR exhibition explores the transition of visual artists from consumers of album art to creators of reimagined album covers. All exhibiting pieces measure 24" x 24," which maintains the square shape of an album cover, while doubling the cover size for increased visual impact. Participating artists will reinterpret iconic album covers while maintaining a conceptual thread to the original album artwork, which will be visible via QR code.
The vast range of source material crosses musical genres with album artwork often creating an emotional bond with the public. The beauty, drama, creativity, and anticipation lies in how the artist navigates that bond while owning the vision of their remix. As stated by curator Dick Burroughs, "Album art isn't normally in art-specific environments such as a gallery, and the public's interaction with the familiar, yet different creates a vibrant energy."
In addition to the artists the jury selects for the exhibition, the exhibition will feature a select group of guest artists curated by Dick Burroughs.
Selected artists are chosen for their style, energy, and vibrancy to create exceptional expressions of the Cover Lover Remix curatorial theme. The select artists include: Pablo Power, Ritchie Sway Iwanski, Mike Perry, Kristen McCilver, Misha Tyutyunik, Jim Twice, Charlotte Mouquin, Savior El Mundo, and Voodo Fé.
Participating Artists:
Stacy Alessio, Audrey Anastasi, Jennifer Angarano-Ricc, Annette Back, Kathleen Benton , Iliana Budea, Julian Budea, Kris Campbell, Lisa D'Amico, Nancy Diamond, Savior Elmundo, Trine Giaever,  John R Gilbert, Marianne Goldstein, Livia Gus, Mackenzie Heslin-Scott, Victor Ignacio, Richard "Sway" Iwanski, Jamey Jackson, Dorothy Johnson,  Minna Koo, Mitch Liner,  Melissa Lovstrum, Kristen McIver, Shawn McKinney, Catherine McVety,  MAIZIANNE, Jack Milazzo, Mr Momar, Amy Mott, Mouise, Charlotte Mouquin,  Gank Pansuay, Mary Pargas, Mary Tooley Parker, Kelly Perez, Mike Perry, Pablo Power, Queen Hexaphene, Tom Rosenthal,  Lauren Rudolph, Erika Shallcross, Debbie Silberberg, Kelly Sisco, Patrica Stewart,  Natalie Sturgis, Melanie Sullivan,  Jessie Taylor, JIM TWICE, Misha Tyutyunik, Voodo Fe and Ajamu Walker
ABOUT THE JURY:
Dick Burroughs is a Brooklyn-based art curator, writer, DJ, and culturati. He started the Cover Lover Remix exhibition to pay
homage to the power of album cover art and platform emerging artists. He has curated exhibitions at Bushwick Open Studios, Sensei Gallery in Manhattan, and Corridor Gallery in Brooklyn. He's a frequent contributor to Brooklyn-centric news and lifestyle websites such as Black-Owned Brooklyn, TrulyBrooklyn, and BK Reader. Dick Burroughs has created the storytelling platform called So Boom, Check It, which debuted with an ebook of real-life, short stories from his time as an NYC marketing exec and international music manager in the 1990s and 2000s. You can find him on Facebook and Instagram.
Charlotte Mouquin (Voznesenskaya) is an artist, curator, and art professional. She is the Executive Director at the Pelham Art Center in Pelham, NY. (read more here) Previously she was the Director of Rush Arts Galleries of Rush Philanthropic Arts Foundation from 2010-2017 focusing on all exhibitions and public programs at Rush Arts Gallery in Chelsea and Corridor Gallery in Brooklyn. She is the principal of CharVoz, LLC. and was a founding board member of the Love Yourself Project. Her goal is enhancing community through art experiences that highlight our humanity as global citizens. You can find her
on Instagram and Facebook.