Pablo Power, Misha Tyutyunik, Savior Elmundo: Group Public Art Exhibition
August 18, 2022 - August 18, 2024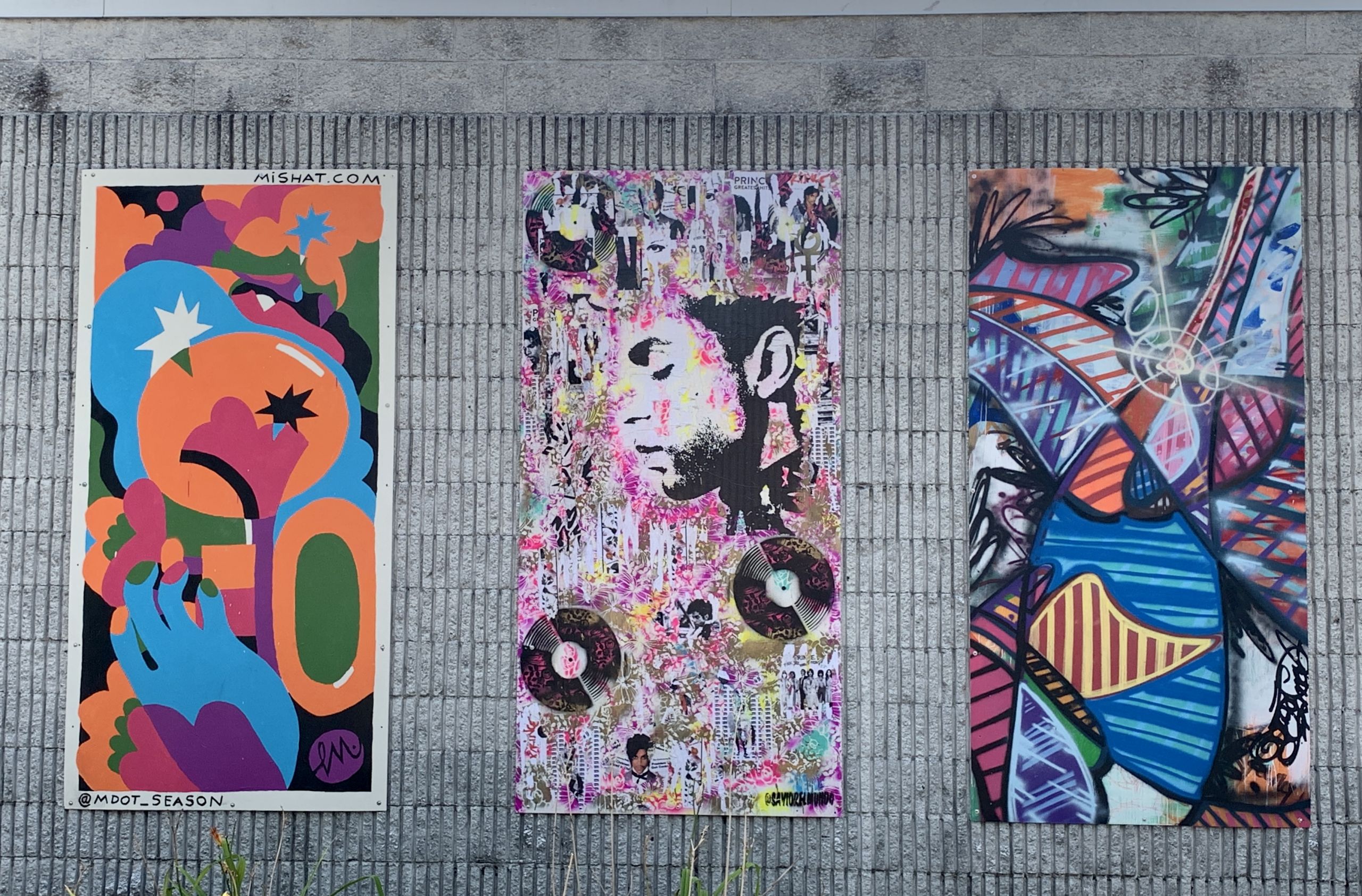 Three new public artworks are now installed on its Third Street façade. New York street artists Pablo Power, Misha Tyutyunik, and Savior Elmundo have each created a 4 foot x 8 foot artwork on wood panel.
These works were executed in the Pelham Art Center courtyard on July 27, 2022 during the Cover Lover Remix DJ Party–a one-day festival of art, music, and community engagement to mark the opening of the Cover Lover Remix exhibition curated by Dick Burroughs. Cover Lover Remix is a juried multi-artist exhibition of "remixed" album covers that began in 2011 in Bedford-Stuyvesant, Brooklyn. The exhibition is centered around vinyl records as handheld pieces of multimedia artwork comprising a layered sensory and emotional experience. All exhibiting pieces measure 24" x 24," which maintains the square shape of an album cover, while doubling the cover size for increased visual impact. 
These three "mini murals" by Pablo Power, Misha Tyutyunik, and Savior Elmundo were envisioned and created to express the positive power of art and will remain on the intersection of Third Street and Fifth Avenue for all to enjoy for 2 years. 

Pablo Power creates his layered graffiti mini-mural at the Cover Lover Remix courtyard party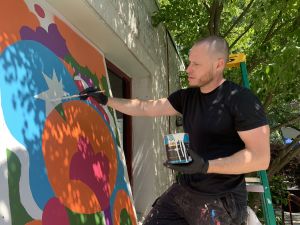 Misha Tyutyunik hand paints his bright, graphic piece in the PAC courtyard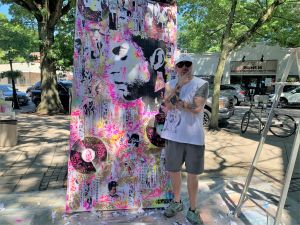 Savior Elmundo combines layers of spray-painted stencils in his artistic  tribute to Prince.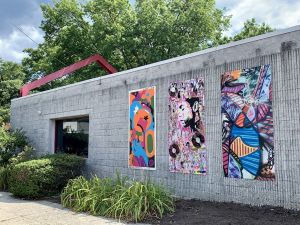 About the Artists
Pablo Power is a New York City-based multidisciplinary artist working in a combination of media to build narratives that engage people to search for common ground. His work is continually inspired by the formative years he spent in Miami, writing and painting public murals, to introduce something colorful, crafted, and considerate into locations that may otherwise be forgotten, overlooked, or avoided. Pablo Power's artwork is often an exploration of how divergent communities coexist and relate to one another, as he understands humanity to be a delicate balance of stratum, layering to form a shared history. He finds fascination in the synthesis of dichotomy and its ability to bridge divisions that fragment humanity. Pablo's work focuses on affective positive change and a path forward through barriers and divisions that exist in our social, interpersonal, and individual realms.
Misha Tyutyunik
Misha Tyutyunik is a Ukrainian-born, painter, muralist, street artist, illustrator, and most recently, virtual reality artist, living and working out of Brooklyn, New York. A graduate of Pratt Institute, he travels the world creating murals and is regularly commissioned to paint and illustrate for many reputable brands, publications and collectors. The artist works in a variety of styles and media, to produce pieces that are both visually striking and thought provoking. His work, while tailored to the task at hand, always retains his persona and aesthetic. Misha balances his life between corporate endeavors, public art and personal work, often painting with youth and community organizations and exhibiting in galleries throughout New York and abroad. Misha has recently completed a Fulbright Grant abroad in Ukraine, and was one of five artists chosen to paint a sanitation vehicle for the NYC Dept. of Sanitation as part of their 'trucks of art' initiative.
Savior Elmundo
Savior Elmundo works primarily in collage and abstraction to create compositions that envelop the viewer with the very visibility of their formal processes. Elmundo's gestural style is infused with pervasive color and gloss, resulting in an incomparable vibrancy and spontaneity. Through layering up to ten compositions upon any given canvas, Elmundo achieves a textural complexity which takes time to decipher even as it grips the viewer instantaneously. Behind the dense web of poured and splattered lines this New York native artist unravels an emotional spindle as dense as his own heritage. His process is rooted in the rituals of NATIVE LATIN INDIAN  ceremonies, which he believes help him to bring out "strength and boldness into the scribbles, the lines, the background color, the force of the paint splatters." In his collage works, Elmundo utilizes all mediums (acrylic, enamel, spray paint, markers, records, and many more) to create a moment in time, a nostalgic journey that captures eras of pop culture, fashion, music, and film. His art has been featured in numerous solo and group shows in NYC and LA, appealing to avid art collectors and art lovers who appreciate his perspective, energy, and creativity.  Elmundo also helps other artists through his art movement called "Collage NYC," which began in 2009 and continues strong today. Born in Harlem, New York, Savior Elmundo has practiced art mediums as diverse as hip hop breakdancing and independent filmmaking. His films have appeared in numerous festival circuits, including showings at the New York Film Festival and the HBO International Latino Film Festival.
For more information on public art calls and other opportunities for artists, visit Pelham Art Center's Calls for Artists page. 
This project is made possible with funds from ReStart the Arts, a regrant program of ArtsWestchester with support from the Office of the Governor, the New York State Legislature and the New York State Council on the Arts.