Solo Exhibition: 2019 Alexander Rutsch Award Winner Sarah McKenzie
May 3, 2019 - June 22, 2019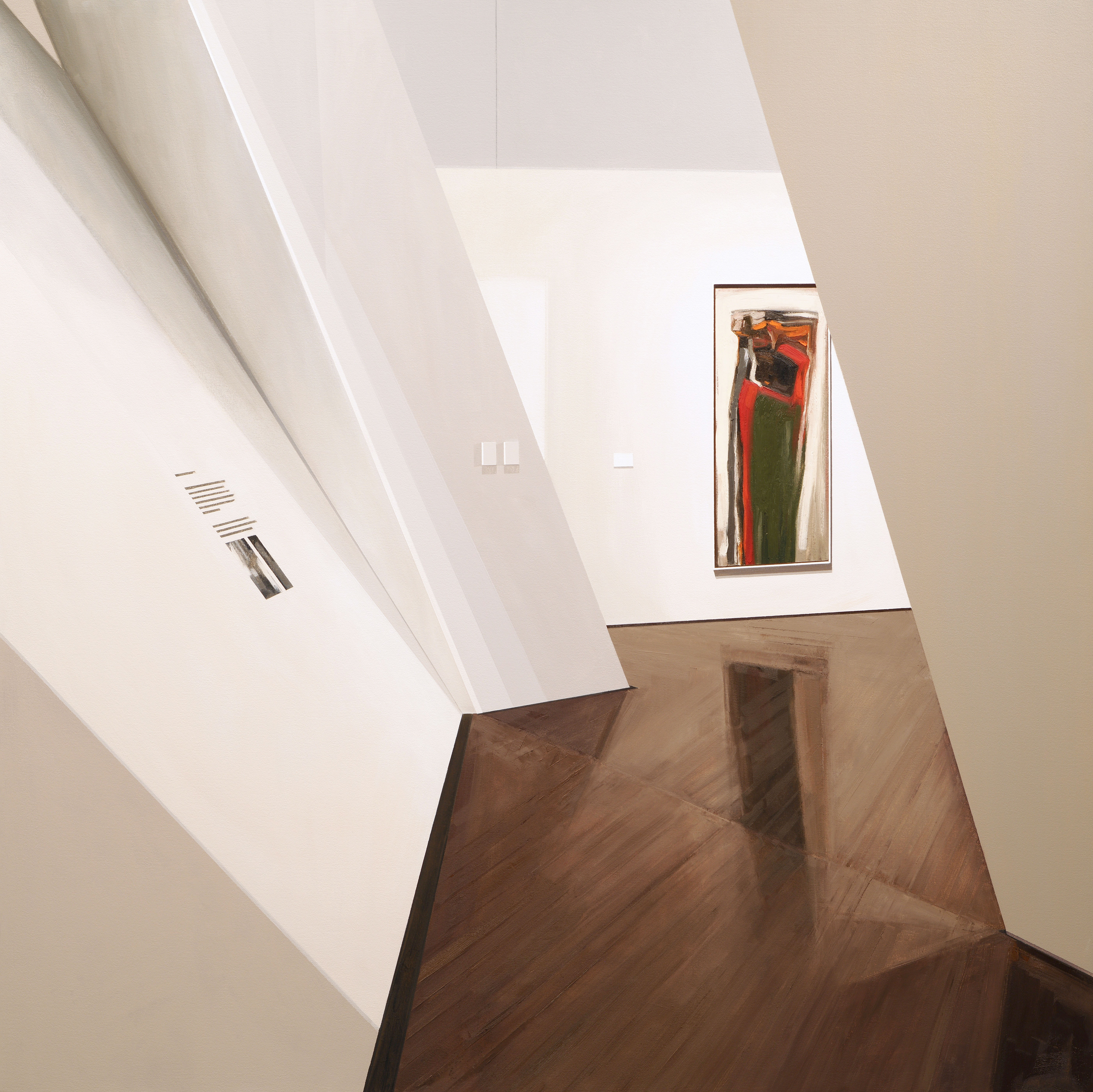 Pelham Art Center is pleased to announce Sarah McKenzie as the winner of the 10th Alexander Rutsch Award in Painting.  The artist receives a $5,000 prize and a solo exhibition at the Pelham Art Center running May 3rd-June 22nd. Sarah McKenzie's artwork explores the architecture of exhibition space. "I am interested in the notion of spectacle and the role that architecture plays in orienting the viewer's experience of a work of art," says McKenzie.  Her visceral depictions of spaces in a state of flux emphasize geometry, pattern, and surface, walking the line between realism and abstraction. An opening reception and award presentation takes place on Friday, May 3rd 6:00-8:00PM at the Pelham Art Center Gallery. On Saturday, June 15th, McKenzie will give an Artist Talk from 2:00-4:00PM in the Gallery. These events are free and open to the public.
Sarah McKenzie was selected from among ten finalists and 467 total applicants from across the country.  The jury included Keith Schweitzer of SFA Projects, Art Historian Lisa Koonce, artist and professor Lisa Corinne Davis, artist Anki King, gallery advisory board members of the Pelham Art Center, and members of the Rutsch family – among them artists, curators, and art professionals. Finalists are judged with an eye to the breadth, content, and creativity to anchor a solo exhibition. 2019 Alexander Rutsch Award finalists included: Gabe Brown, Elise Church, Patrick Hammie, Adrian Hatfield, Katherine Mann, Heather Morgan, Christina Nicodema, Sarah Black Saddler, and Jaye Schlesinger. The group represented a wide range both regionally and stylistically, showcasing a remarkable diversity of artistic talent.
The biennial Alexander Rutsch Award and Exhibition for Painting is a juried competition open to U.S.-based artists age 19 and older. Pelham Art Center proudly sponsors this competition and award honoring the memory and artistic achievement of artist Alexander Rutsch (1916 – 1997). Rutsch actively supported Pelham Art Center for more than 25 years. After his death, friends, family and supporters established a generous fund to support a biennial, open, juried competition in painting.
The Alexander Rutsch Award and Exhibition program continues Rutsch's belief that art transcends all of our humanity. Rutsch saw art as "the stone in the water sending ripples throughout the universe." His extraordinary work, rich in the celebration of life and our shared human experiences, is included in many of public and private collections throughout the U.S. and Europe.
Previous Winners:
2017 Award Winner: Sammy Chong
2015 Award Winner: Lindy Chambers
2013 Award Winner: Siobhan McBride
2011 Award Winner: Nina Rizzo
2009 Award Winner: Tracy Miller
2007 Award Winner: Liang Guo
2005 Award Winner: Dorothy Robinson
2003 Award Winner: Mitchell Marco
2001 Award Winner: Frank Trankina
About Alexander Rutsch
Alexander Rutsch was born in Vienna, Austria.  After studying voice in Austria he became an opera singer like his parents, but after WWII, Rutsch's love for visual expression propelled him to change careers.  He was a painter, sculptor, philosopher, musician, singer and poet. His life as a romantic is reflected in his work, as he sought to perfect his soul and humanity, "I paint my dreams," said Rutsch.  "My dreams are color and life. They soar in my head like millions of symphonies. I can never stop building dreams."
Visit www.alexanderrutsch.com to learn more.