New Teen Initiatives at Pelham Art Center!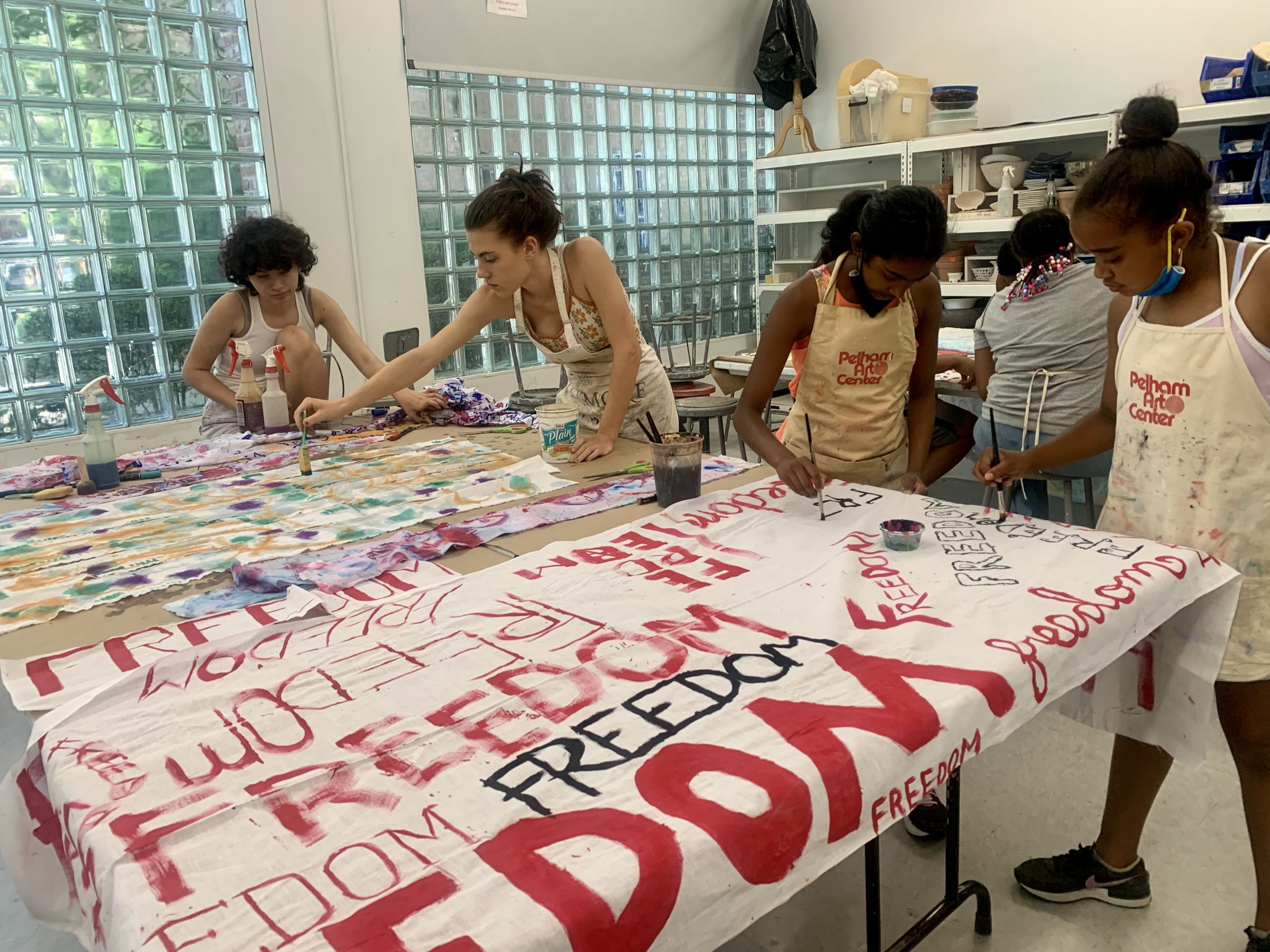 Pelham Art Center is forming a youth leadership program that includes FREE teen open studios, a teen artist council, and continued 6 month internships in 2023. These programs are made possible by the New York State office of Children & Family Services, ArtsWestchester, and TD Charitable Trust.  
Teen Open Studios will be led by Pelham Art Center staff and a professional teaching artist. These will be for 2 hours on 16 select Fridays led by artists and educators Susan Saas, Emlyn Taveras, and Charlotte Mouquin. Registration will be required but these programs will be offered for FREE to local teens. Students can work on individual independent projects, join in the suggested project of the day, and also work on cumulative public community art projects.
Session A Open Studios: September 23, September 30, October 7 – Register Here
Session B Open Studios: October 21, October 28, November 4 – Register Here
The Teen Artist Council seeks to engage young people interested in creating teencentric art programs. This will include selecting candidates to speak on a Careers in the Arts Panel series in Winter 2023, curating a gallery exhibition in April 2023, and leading some public programs in Spring 2023. This group will meet 15 times this year in a hybrid capacity, on the last Wednesday afternoon of the month and the 2nd Saturday of the month in the mid morning. For more information please see the opportunities page on the Pelham Art Center website.
Internships: In May 2022, Pelham Art Center reformalized the internship program to specifically involve 3 local High Schools (Pelham Memorial High School, Denzel Washington School of the Arts and New Rochelle High School) for four 6 month internships to start from May-November 2022. PAC plans to continue the program in 6 month increments, January-June 2023, July-Dec 2023, etc. There is a $500 stipend offered for completing the 6 month teen internship. A key aspect is that this program brings together 4 teens at a time, 2 on Saturdays and 2 on Sundays from different high schools so young people meet people outside their normal circles to engage and participate in art programming.
Part of the internships will be leading and assisting with free public programs for youth and families at Pelham Art Center. The Teen Artist Council will begin officially meeting in September 2022. Creating FREE open studio times for local teens, and providing ample art supplies Pelham Art Center hopes to bring together youth to communicate, learn, and enjoy the processes of creative expression. The Teen Artist Council will work towards the April Teen curated exhibition, exhibition title and theme to be determined by the Teen Artist Council. Additional programming such as inviting guest artists to speak at PAC and working together on public art projects throughout the year will also be included. This program will be overseen by the PAC professional staff and guest teaching artists. Pelham Art Center also aims to engage a Youth Engagement Coordinator. This 6 month grant funded position will be from January-June 2023 and more information will be available in November 2022.
Teen Open Studio Artist Facilitators
Susan Saas
is an artist, milliner, freelance illustrator and educator. She received her BFA in Illustration from the Rhode Island School of Design and her millinery certificate from the Fashion Institute of Technology. Susan enjoys working and crafting with found objects, wood and cardboard to make cars and trucks and toys, mementos and cards. She has taught at Pelham Art Center for several years, and looks forward to working with local teens.
Emlyn Taveras is a New York based artist and educator with over 25 years of experience creating multimedia works of art, and immersive art experiences. Emlyn holds a dual Masters degree in Art Education and Visual Arts from The College of The City of New York.  Emlyn is inspired by the possibilities of transforming spaces through the arts and works with a variety of partners and collaborators to realize this vision. She teaches art in the Pelham School District and has an artist studio in Mount Vernon, NY.
Charlotte Mouquin
, also the Executive Director at the Pelham Art Center, is an artist who has curated many exhibitions, and taught art at public schools and private locations. Her degrees include a MA in Contemporary Art from Sotheby's Institute of Art, a BFA from Parsons School of Design, a MAT from the School of the Museum of Fine Arts Boston/Tufts University with a focus on grades 5-12. She was also certified at Marymount Manhattan College to teach AP Art in 2005, and completed a certificate program with UPENN and National Art Strategies in Arts & Culture Strategy in 2019. "Working at a nonprofit arts space as a teenager was incredibly inspiring for me. The connections, network of thinking and friendships formed have been strong for over 25 years, and most of my friends that I met through that experience are film makers, musicians, artists and creatives across the country. I would love to be able to inspire and bring young people together in a similarly meaningful way."
KEY DATES
Upcoming Teen Open Studios (Fridays 3:30-5:30pm)
Session 1: Register Here
Friday, September 23rd
Friday September 30th
Friday October 7th
Friday, October 21st
Friday, October 28th
Friday, November 4th
Upcoming Teen Artist Council Meetings
Saturday, September 10th – 11:00am
Wednesday, September 28th – 4:00pm
Saturday, October 8th – 11:00am
Wednesday, October 27th – 4:00pm
Saturday, November 12th – 11:00am
Wednesday, November 30th – 4:00pm
Saturday, December 10th – 11:00am
The Teen Artist Council is open to all local high-school teens and continues on a rolling basis. Fill out Pelham Art Center's interest form on their opportunities page to get started.
Pelham Art Center is a non-profit educational and cultural institution committed to providing public access to see, study and experience the arts, foster lifelong arts appreciation and thereby strengthen the community.  The Art Center was founded in 1970 and now serves more than 16,000 people each year. These events and programs are made possible, in part, by ArtsWestchester with funds from Westchester County Government with the support of County Executive George Latimer. Pelham Art Center also receives funding from: New York State Council on the Arts, A State Agency, TD Charitable Foundation, The New York State Office of Children and Family Services (OCFS), and Pelham Community Members and Annual Fund Donors.